KopeLion works to enable lasting coexistence between pastoralists and lions in Ngorongoro Conservation Area and its surrounds. Here intensifying human-wildlife conflicts has been tough on both the people and the lions. In the last decades, the lions have begun to disappear entirely from their former ranges, separating the famous Ngorongoro Crater lions from the Serengeti. The area has a mission for harmonious coexistence but recently both people and wildlife are losing out. KopeLion was founded with the aim to find a working model for coexistence together with the pastoralist communities and alongside the conservation authorities.
Together with our research partners, the work builds upon data collected over the last 50 years on the best-studied lions in the world, which gives a unique opportunity to measure the effects of our efforts on a population of lions, studied for generations.
Our Impact
Increased lion observation across the area we work in, indicates a return of, and an increase of lions into the Ngorongoro Conservation Area's community lands.

Graph showing on average a 12% increase per year in lion observation since 2017.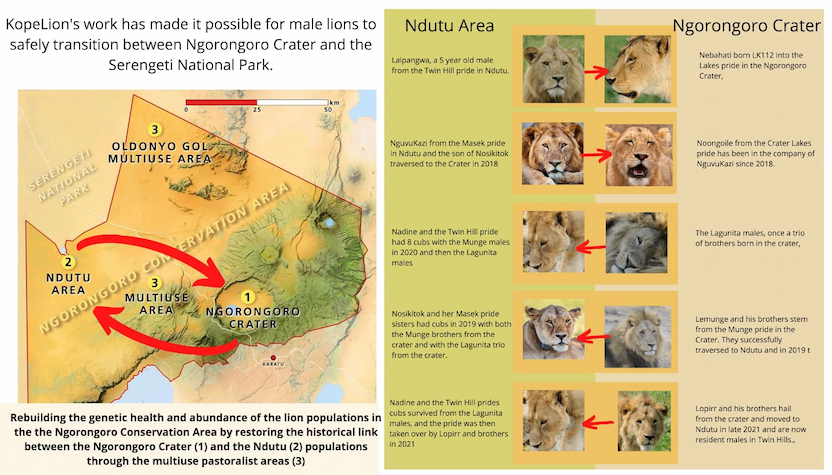 How we started
KopeLion, Korongoro People's Lion Initiative, started from a collaboration between lion researchers and the people of Ngorongoro, Tanzania in 2011. The goal was to develop and implement a sustainable model for positive coexistence between resident pastoralists and lions in Ngorongoro.
Initially the TAWIRI project expanded and built upon Serengeti Lion Project's unique, long-term dataset on lions from the Ngorongoro Crater, including family histories and population genetics, reaching back to 1962.
The focus then went beyond lion research and KopeLion was initiated to expand into the direct engagement of pastoralist communities, because we believe local involvement is paramount to the continued existence of lions in this landscape. KopeLion employ local warriors, many of them former lion killers, for culturally appropriate duties in lion monitoring and protection and in direct conflict mitigation. Inspired by the Lion Guardians, and with them as partners, their model was adapted to Ngorongoro and implemented in 2014. KopeLion now have positive collaboration with local communities engaging with our efforts and becoming the foremost ambassadors for lions.